Baker Lake Backpack (Trip) - Grades 5 & 6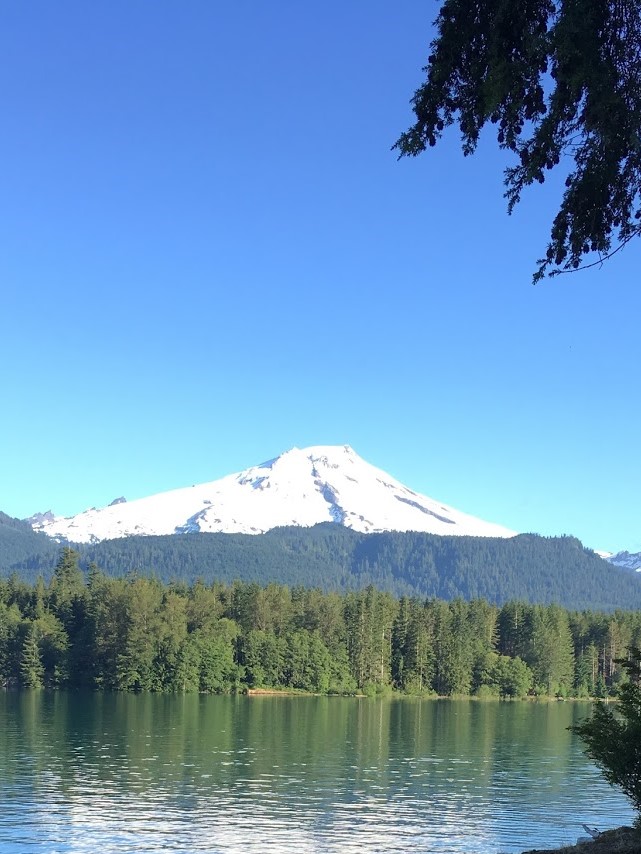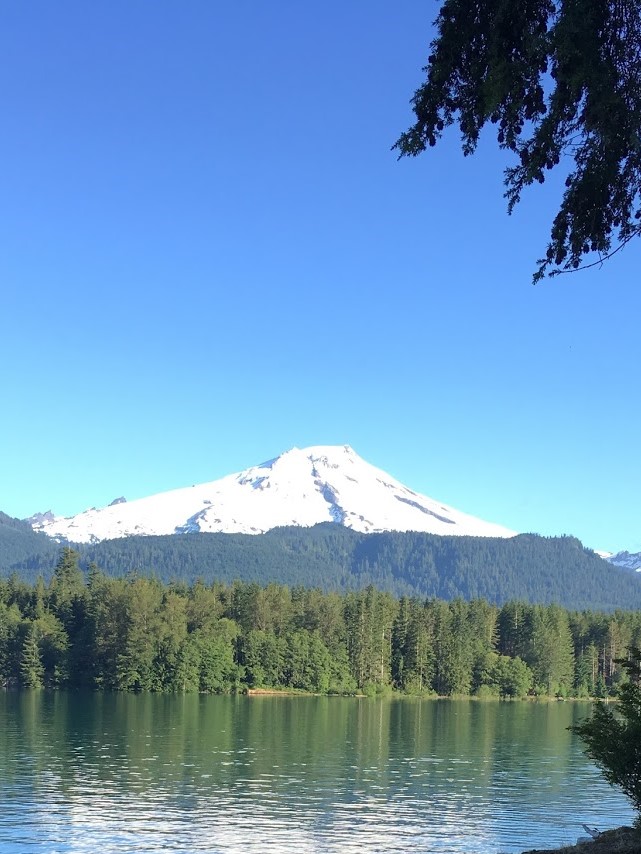 Baker Lake Backpack (Trip) - Grades 5 & 6
Monday, June 24 - Wednesday, June 26, 2019 (CANCELLED)
Pre-Trip Meeting (Mandatory): Sunday, June 23, 2019
Adventurers will head southeast to shining waters and big trees, starting at the Baker Lake trailhead, then leave the road behind to walk past ancient, moss-draped giants. This trail gifts trekkers with stellar volcano views of Komo Kulshan and Shuksan, towering trees, cascading creeks, long-haired lichen, a cold lake to swim in, and so much more.
The 14-mile Baker Lake trail offers plenty of day-hike exploring options after we've established a base camp at Anderson Point campground (2 miles from the trailhead). Build backpacking skills, stretch your edge in new ways, and learn how to work together as a team. As we explore this lakeshore, we'll learn about how these waters came to be here, tell stories about the big mountains watching over us, discover the human and natural history of this lake basin, and give participants many of the responsibilities that come with living on the edge of the wilderness. Read more.
Total trip miles: 4 miles with full packs, collaboratively decided additional distance in day hike explorations.
Elevation Gain: Minimal
$410
Scholarship applications available during registration.
2019 Itinerary
Monday, June 24 - Wednesday, June 26, 2019
Pre-Trip Meeting (mandatory): Sunday, June 23, 2019. Time: 10:00-1:00PM. Location: Cascades Montessori Middle School, 2710 McKenzie Avenue, Bellingham. Directions. Participants should bring backpack and everything on the gear list they plan to bring on the trip. While this meeting is for participants only, we're happy to fill parents in on everything we discuss!
DAY ONE
Meet at Cascades Montessori Middle School, 2710 McKenzie Avenue, Bellingham at 9:00AM. Directions. We'll do a final gear check, then load our packs and ourselves onto the Wild Whatcom bus for a song-singing drive the Baker Lake trailhead. After lunch, we'll strap our packs on our backs and begin our walk beside burbling streams through the remnant of an ancient cedar grove (mostly wiped out in the 1843 eruption of Mt. Baker), trees draped with hairy lichen. Views of Baker Lake and Komo Kulshan will accompany our hike, while native plants like trillium, twinflower, foamflower, deer fern, coralroot, and twisted stalk will cheer us on. Before long, we'll see the vast expanse of Baker Lake glittering in the distance.
We'll explore the shoreside camping area of Anderson Point at 2.1 miles, making a collaborative decision to stay there or continue on to Maple Grove camp at 4.1 miles. Either way, we'll have front row seats to Komo Kulshan to the west and Mount Shuksan to the north, gleaming white and looming over the lake.
Once we've set up shelters and created our camp kitchen, we'll stow our food in bear boxes and go exploring all around our wilderness home (including a terrific open air toilet under a giant maple tree)! Nighttime will bring its own magic, with a sky bursting with stars you can only see in the far-off places.
DAY TWO
After breakfast and morning chores (hanging food, filtering water, making lunch, etc.), we'll shoulder our daypacks, exploring north along the lakeshore. We'll cross Anderson, Noisy, and Hidden Creeks as we explore the 14 mile Baker Lake Trail as far as we collaboratively decide to. We may move slower, finding frogs for watching, logs for crossing, and special sit spots for solo peaceful place time. This IS the place to be true explorers, where humans are only visitors, and nature is at its most wild. We'll return to camp for dinner and stories 'round the fire before climbing in our tents for another night with the lake water lapping, lulling us to sleep.
DAY THREE
We'll spend this final day learning how to leave a place with no traces but our footprints as we pack up camp and say goodbye to the special sights and sounds, peace and play of the mountain wilderness. We'll take our time heading down the trail, stopping to explore along the way, arriving back at the bus after lunch. It's likely to be a drowsy drive back to Bellingham, each of us holding the treasures of our experience and a new connection to each other. Parents: plan on a trip report from the kids before we unload gear and you whisk them home!
Pick-up: Cascades Montessori Middle School, 2710 McKenzie Avenue, Bellingham. Time 4:30PM. Directions.
Learning Outcomes: Lessons learned and concepts covered on this adventure include an in-depth exploration of all Wild Whatcom mottos, healthy and supportive interpersonal communication, Leave No Trace (TM) ethics, collaborative leadership development, common sense camping, analyzing hazards and how to mitigate their risk, living with integrity, dealing with discomfort, exploring how our thinking affects our reality, ecology and botany of lakeshore ecosystems, wilderness awareness, survival priorities, navigation, preparedness, wildlife behavior, human impact on ecosystems, working with and through fears, collaboration and compromise, mountain weather systems, practicing gratitude, beginning backpacking skills, understanding personal potential, and more!
Participant pre-trip questionnaire and tetanus immunization required to participate.